Monday – Friday: 8:30am – 5pm
The Park District has completed shoreline stabilization measures at Lloyd Beach and is in the process of developing a solution for Elder / Centennial Beaches
Elder + Centennial Beaches
Design and engineering work for the new breakwater system at both beaches is ongoing. Staff anticipates finalizing the designs and applying for a permit in the summer/fall of 2021.
From 2020 to 2021, the Park District completed a large-scale shoreline stabilization project at Lloyd Beach to protect it from ongoing damage. 
New breakwater system
Beach replenishment
New boardwalk extending from the beach house to the parking lot
South beach access ramp improvements
Fenced-in motorized boat storage renovations
New / relocated non-motorized boat racks on the south beach 
Boat launch repaving
Altogether, this project cost approximately $5.1M and was paid for using a mix of revenues, reserves, and alternative revenue bonds.
Need for Shorline Protection
Breakwaters work in several ways:
Breaking or intercepting the waves to dissipate wave energy before reaching the shoreline, which decreases erosion and makes the beach safer
Creating a basin that keeps sand in so a usable beach is maintained during high and low water levels
Breakwaters are made of piles of stone in the lake. During average lake levels, approximately five feet of stone will be visible above the lake's surface. This is high enough to protect the beach during periods of high waves but low enough that the view of the horizon from the beach will not be impeded.
The breakwater system at Lloyd includes a structure at the south end, in the middle and at the north end. A portion of the south end breakwater will start on the beach. It will include built-in stairs allowing patrons to easily traverse it while walking along the beach.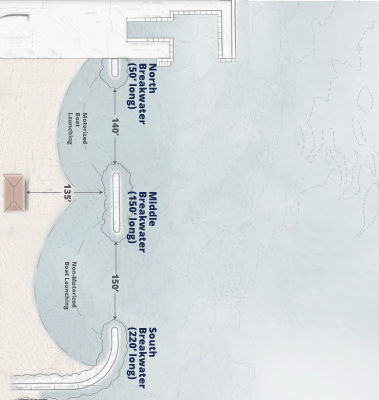 A 140 foot to 150 foot gap will exist between the breakwaters, ample space for motorized and non-motorized boaters to safely pass through.
Together the breakwater structures will effectively reduce the wave action near the shoreline to protect the beach and bluff from erosion, protect the boathouse, and make the water safer for patrons. Over time, the beach will begin to build up sand allowing us to maintain a usable sandy beach during periods of low and high lake levels.
Pier Improvements
To give additional protection to the beach and boat launch, the existing pier deck height will be raised and a stone revetment added to the east side of the structure. The pier will also be extended to give more queuing space for motorized boats.
Monday – Friday: 8:30am – 5pm